Shipley / Godefroy / Graham / Upward / Sinclair Vacation in France - Summer 2003
Email info@theUpwards.net for more information.
All the pictures on these pictures have been "thumb nailed"...so the loading should be much faster. To see the high resolution version of these pictures simply click on the picture.
---
Paris...Hot
Paris....mid-August 2003...the end of the worst heat wave in recent years...this picture of the Basilique du Sacré Coeur was taken when it was mid-morning and only ~30°C (113_1356)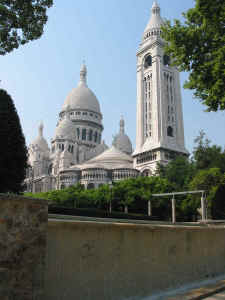 ---
To Brittany...
After three hot hot hot days in Paris we drove in air conditioned spender East to the cool breezes of Brittany / Bretagne...and at the gateway to Brittany the lovely town of Vitré with its impressive castle (113_1362)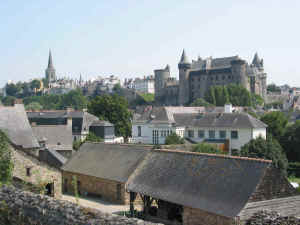 Reaching Guingamp Lyanne Upward and Janet Upward check the map (113_1365)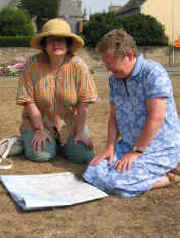 We arrive at the Côte de Granit Rose...the Cornwall of Brittany...and onto the road into Ploumanac'h, home of Allison Sinclair's mother Ina this fabulous view (113_1366)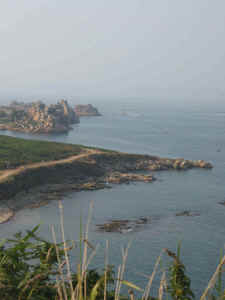 The welcoming party at Perros...L->R Ina Sinclair, Alison's sister and cousin , Allison with James Upward in her arms, Richard Upward, Janet Upward with Clara Upward in her arms (113_13667
.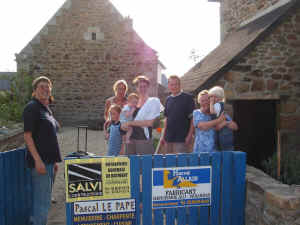 ---
The Beach at Ploumanc'h
The more people arrive...the Appleby/Rawlinson's...friends of Antony and Lyanne...and Lyanne family...and we all head to the beach at Ploumanac'h...
| | |
| --- | --- |
| Beach bum? No its Mike Appleby! (113_1378) | Can grown men build sandcastles...you bet! L->R Emily-Violet Rawlinson, Antony Upward, Burke Shipley (113_1380) |
| Mike Appleby and Burke Shipley (113_1397) | L->R James and Janet Upward (113_1401) |
---
The Gite
The Gite that the Shipley's / Godefroy's / Upward's were staying at, was the 16th century Manoir du Launay, just outside Langoat.
If you want to get a sense of what 2 weeks together in Gite is all about...read Miles Kington's very amusing article "What I wish I had known before my holidays"...recommended!
( 114_1489, 114_1488, 116_1605)
The Gite even had a dishwasher...which considering the size of the party was rather good! (114_1415)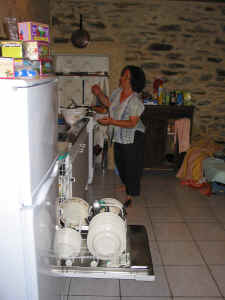 ---
Catching Up
The three Godefroy sisters are catching up on their news...L->R Lillian Langlais, Nicole Shipley, Colette Heitz
At the other end of the table the three Shipley sisters L->R Debbie Graham, Nadine Shipley and Lyanne Upward catch up.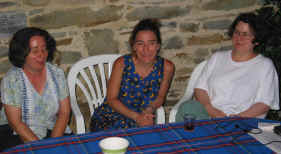 (114_1417)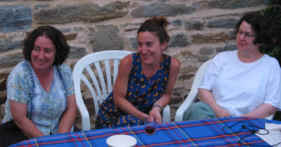 (114_1419)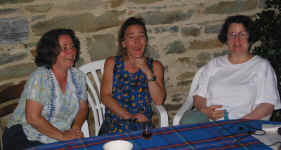 (114_1432)
And finally Chris catches up with the owners dog... (115_1559)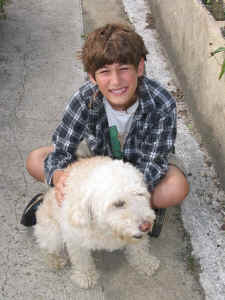 ---
Celebrating Burke and Nicole's 50th Wedding Anniversary
The Shipley party headed to a small crêperie in Trédrez - 'Auberge Saint Erwan Creperie' to celerbrate the 50th Wedding Anniversary of Burke and Nicole Shipley...crêpe and cidre....mmmm!
L-.R Standing: Lyanne Upward, Brigitte Godefroy, Marc, Nadine Shipley, Debbie Graham, Antony Upward

Sitting: Robert Langlais, Burke Shipley, Nicole Shipley, Lillian Langlais, Colette Heitz

Cross Legged: Sohpie Mayeur, Chris Graham, Erika Graham

(114_1457)

The table...with the Cidre and Breton cola...Breizh Cola... le Cola de Bretagne...le Cola du Phare Ouest

(114_1453)

Lillian can't believe how much cream is on her desert!

(114_1434)
The happy couple...
(114_1442)

(114_1444)

Something's never change...Nicole really doesn't like her picture being taken...

(114_1446)

The Cake! (114_1450)

All say Ahhh together...the Kiss! (114_1452)
The cousins...Brigitte, Lyanne, Nadine and Debbie (114_1453, 114_1455)
Burke Shipley and his youngest daughter Nadine (114_1436, 114_1438, 114_1440)
---
The North coast of Brittany near Ploumanc'h...

(114_1461_Stitched))
The "Castle" at Ploumanc'h...
---
Baby James Upward...age 8 Months
Aren't these the "perfect" baby pictures...
(114_1480, 114_1482, 114_1494)
Then Uncle Antony and Aunt Lyanne have to get in on the picture...
(115_1524, 115_1532)
---
Clara Upward's 3rd Birthday Party Chez Ina
Unwrapping presents...Richard and Allison help...Janet and Ina look on
(114_1492, 114_1504, 114_1507)
Its so dredfully unfair...now Clara has to share her presents with her brother!
(114_1510, 114_1511)
Then of course there is cake...is that the 3rd helping? (114_1515)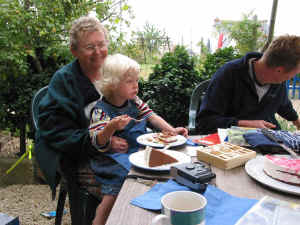 All at sea in pea green boat!
(114_1516, 114_1517, 114_1518)
---
One of the many Moulin a Mer (tidal mills - powered by the tides) on the Brittany coast....with its tidal pool in the forground. (115_1535)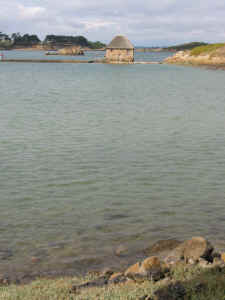 A group of us climbed to the top of the highest point on the island and the Chapel St-Michel... L->R Burke, Janet, Antony, Erika
(115_1551, 115_1552)
After lunch (more crepe and cidre)...after the "youngsters" wimped out the rest of us walked to the Northern tip of the island...and the lighthouse (Le Phare du Paon)
(115_1554, 115_1555, 115_1556, 115_1557, 115_1558)
The intrepid few...L->R Nicole, Lyanne, Janet, Burke

Lyanne relives her childhood climbing rocks and looking in wading pools!
---
(114_1476)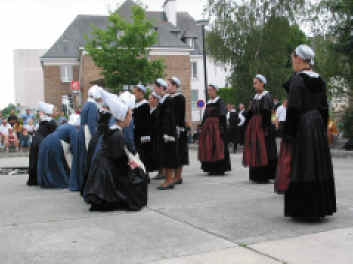 ---
(115_1562, 115_1563, 115_1564)
---
(115_1565, 115_1577, 115_1586, 115_1588, 115_1591)
---
(116_1611, 116_1612)
---
(115_1594, 116_1621, 116_1622, 116_1630_stiched)

---
A Birthday Party for Nicole
Lyanne orders enough Saint Honoré for the five thousand...lucky for us we like whipped cream!
(115_1600, 115_1602)
---
Burke, Nicole, Antony and Lyanne go for a walk on an extraordinary peninsula of land jutting out 5-6km from the shore...entirely of small stones...
(116_1613, 116_1614, 116_1618)
---
Endings and Fairwells
Antony and Janet at Guingamp railway station...
(116_1604)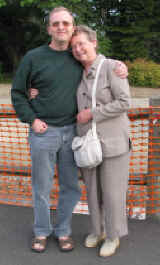 Most of the party had departed...the final four holdouts (L->R Nicole, Burke, Lyanne, Antony) have the last supper...
(116_1634)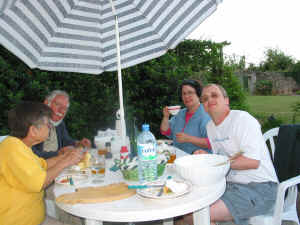 And the last toast (cidre of course) to the wonderful holiday that was...
(116_1632)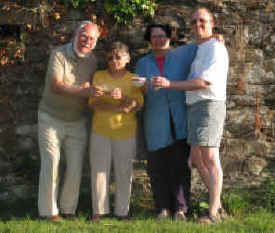 And the final lunch back in Paris...L->R Antony, Lyanne, Nadine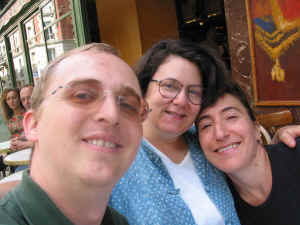 ---