Christmas chez Shipley in Chicago - Part 2
Due to space restrictions on the web site host the larger pictures have been removed.
Email info@theUpwards.net for more information.
Melli get's a good scratching from Erika and Chris
(107-0745)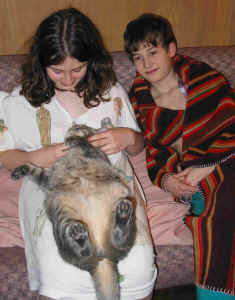 The other Xmas elf (aka Erika) helps with the chocolate log (a mid-Atlantic melange of Delia Smith and Joy of Cooking!)
(107-0746, 107-0748, 107-0750)
Jim (R) makes the chocolate bark (though confusingly not for the log!) with help from Burke (L)
(107-0751)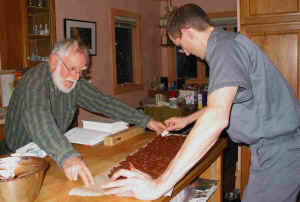 Then Santa (Burke) arrives to deliver the gifts...but why does he have the camera?
(107-0760)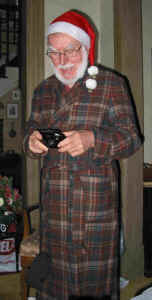 The tree, plus (once again) more gifts than everyone promised they would purchase...
(107-0756)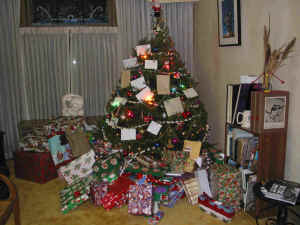 And a gentle snow fell...a White Christmas...and the newst visitors (Stef and Nadine) must work for their Xmas dinner
(107-0774, 107-0777)
Then the unwrapping begins...and Kuba (the Alpha female at 170 North Taylor) enjoys her gift, and Melli helps with the unwrapping!
(107-0747 - Movie Removed , 107-0763)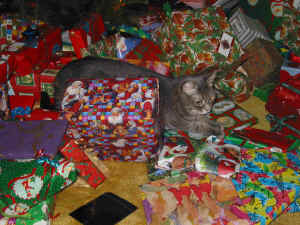 Mean while the adults (!) start to enjoy other peoples gifts...but wait is this R2/D2...no its Nicole trying out the kids medieval helmets
Then the kids show how it really should be done...
(107-0764, 107-0788)
Then the champagne (and in Lyanne's case the first of too many!). L->R Burke, Jim, Lyanne, Antony, Nadine, Nicole, Chris, Steff, Erika and Debbie; Burke with his three daughters L->R Nadine, Lyanne and Debbie
(107-0779, 107-0783)
Yes these people are stressed, as the turkey gets a basting, luckily the champagne helped avoid major injury
(107-0784)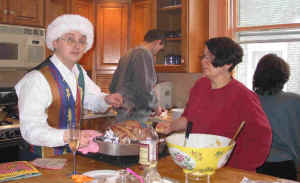 Damm...forgot to take a picture of the flaming (!) pudding!

At the end of the day the only ones left standing...the dog and the kids (playing the Upword game from Janet)
(107-0789, 107-0791)